What is a Tizmo?
A tizmo represents an online resource that you can drag, drop, and categorize on your Tizmos page. Each tizmo contains a screenshot and link to the online resource and allows you to customize the title & other options. Below is an example tizmo link of sesamestreet.org: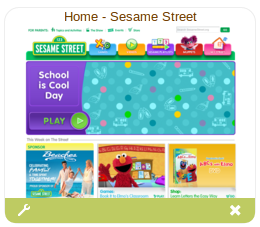 Adding Tizmos to your Page
It's easy and fun to add tizmos to your page. Just click the + icon at the top right of your page and type or paste in the address to the online resource.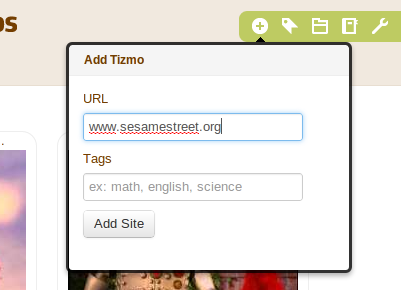 Read up on how to use our bookmarklet for an easy way to add tizmos directly to your page while you're browsing the Internet.
Sorting Tizmos
You may want to re-arrange tizmos into a different order on your page. You can easily sort them by dragging and dropping tizmos as illustrated below.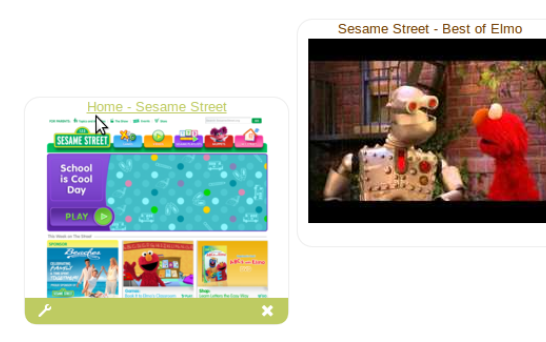 Bookmarklet
The Tizmos bookmarklet is a special kind of bookmark that allows you to add online resources to your page without actually having Tizmos open. Imagine you're browsing the web and come across a resource that might be a great addition to the classroom; with our bookmarklet, you can just click "Add to Tizmos" on your bookmarks or favorites bar and have the site show up on your page next time you visit your Tizmos page.

All you need to do to start using the bookmarklet is visit your account settings and drag the "Add to Tizmos" button to your bookmarks bar.
Selecting an Alternate Thumbnail
Sometimes the screenshot of a website isn't very clear or doesn't say much. Tizmos premium members have the ability to select from pictures on the target online resource after it has been added. For example, instead of a regular tizmo that shows the Sesame Street website screenshot - a picture of Murray Monster was selected and displayed on the tizmo.

You can use alternate thumbnails by clicking the small wrench on a tizmo, and selecting from one of the images shown at the bottom of the form.
Adding Video Tizmos
Video tizmos minimize student distractions and allow them to watch videos from Youtube.com or Vimeo.com right on your Tizmos page. You can even specify an exact minute and second start time to show students a specific clip in the video. The picture below shows the video player when a video tizmo is clicked on your page. Video tizmos are automatically added when Youtube or Vimeo videos are detected.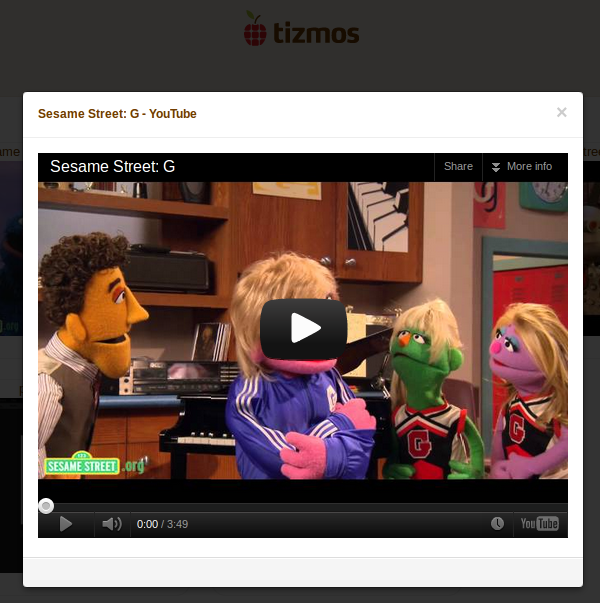 Adding Folders to your Page
Just like real folders, tizmo folders give teachers a way to organize their tizmos under different pages for students to access. For example, a teacher might categorize her tizmos into subject areas like Math, English, and Science. The teacher can choose to also keep any of her folders private. The folder icon allows premium users to add folders to their page.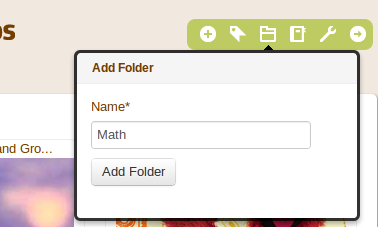 Once your folder is added, you can add new tizmos or move your existing tizmos to your new folder. To move existing tizmos to a new folder, click the small wrench on a tizmo and select a new folder on the form.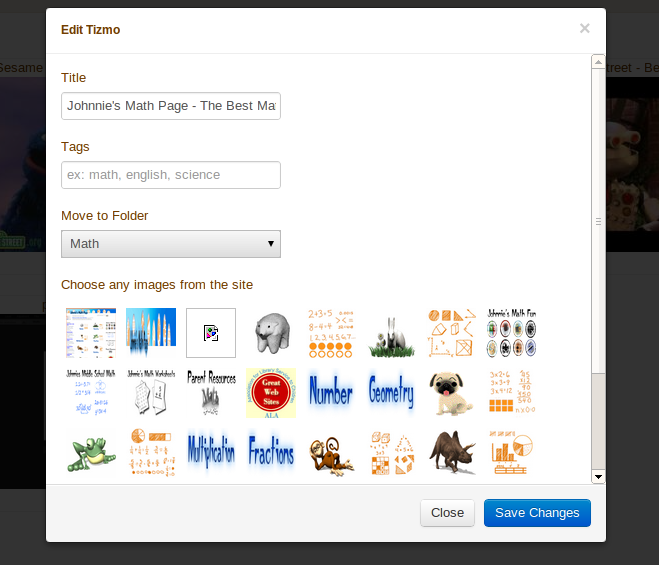 Sharing folders works the same way as sharing your Tizmos page.
We try our best to provide our teachers with the best possible experience. If you have any questions, comments, or suggestions, please don't hesitate to contact us at support [at] tizmos.com.